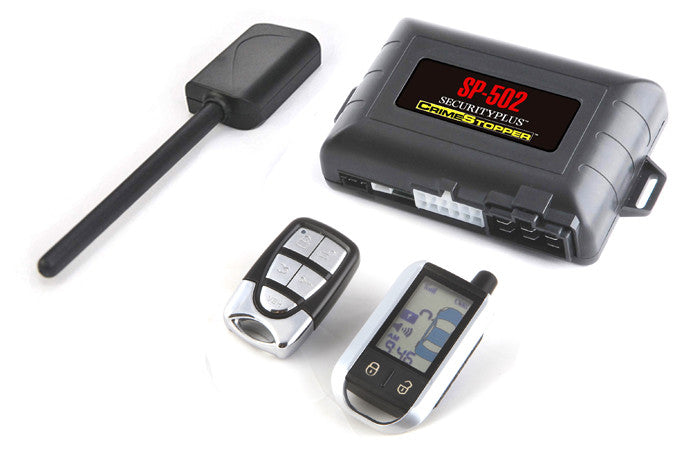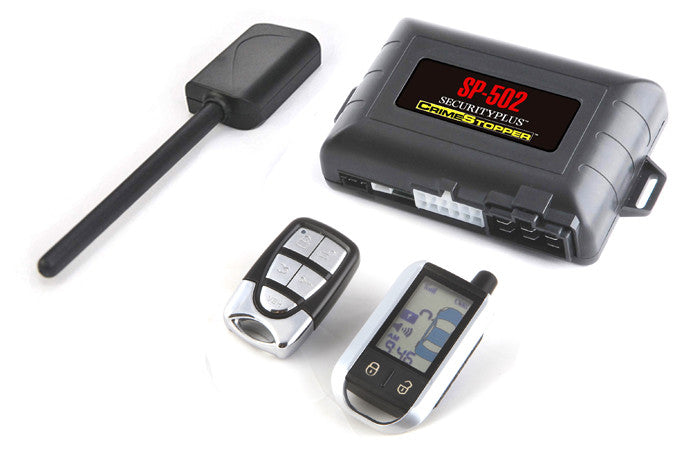 CrimeStopper
CrimeStopper SecurityPlus SP-502
CRIMESTOPPER SECURITYPLUS SP-502
The SP-502 will not only help protect your vehicle from thieves and vandalism but will also give you the convenience a a remote start system as well. The system is controlled by a 2-Way FM/FM Rechargeable LCD remote with a working range of up to 3000 ft. and a smaller 5-button "sidekick" non-paging remote. The SP-502 system can be easily converted from a 2-Way system to a 1-Way system by switching one of the programmable options and replacing the antenna and transmitters. You no longer have to remove the brain and mess up your clean installation to fully upgrade your system.
All of the key security functions are represented with the SP-502 system such as a starter kill output, dual stage shock sensor, a 20 watt single-tone siren, separate driver's door priority unlocking and trunk pop. There are also (3) additional auxiliary outputs which can be used for any kind of accessory features such as window roll up, sunroof open/close or even for adding door poppers for a full custom keyless entry function.
The interactive display on the paging remote confirms all commands almost instantly with easy-to-understand icons. It alerts the user to alarm triggers and remote starting functions by beeping and vibrating when out of audible range of the siren. The LCD screen will also turn red when an alarm trigger is reported to the user. The LCD remote can be set into silent mode where it will vibrate only when the vehicle is tampered with, or you can also customize it by turning only the beeping tones on without vibration. You can also turn off both the vibration and beepign tones completely for a full silent mode. When the vehicle is remotely started, the LCD remote will give you a countdown timer to let you know how much time is left on the remote start cycle.
Remote starting capability is a huge convenience especially if you live in colder climates and need to warm up your car before you get in or if you want the AC cranked so the interior is cooled off during those hot Summer days. The remote start feature can also be used to keep the engine running if you have pets in the vehicle and want to keep the climate controls going when you step out of the car for a few minutes. Remote Start can be programmed to start automatically every couple of hours of needed. This is a huge convenience if you are out of town and want to keep the gas and oil running through the engine. The remote start portion of the system also features a Turbo Timer function which will allow the engine to stay running 1-5 minutes after you exit the vehicle in order to let the vehicle's turbo charger cool down if the vehicle is equipped.
Perhaps one of the most interesting features of our combo systems is that the entire system can be controlled through your OEM keyless entry remote if you decide to go that route. Using the lock and unlock buttons of the OEM remote, you can now arm, disarm and remote start the SP-502 system. (Data module may be required for this operation) This is a very useful feature for those who prefer the look and styling of the OEM remote instead of the aftermarket transmitter.
Start, lock/unlock, pop the trunk or locate your car from virtually anywhere with your Smartphone. The SP-502 system has a special Smartphone data port which will allow you to add our MobileStart™ module to make your system Smartphone ready. By adding a MobileStart™ MS-3 or MS-4 module, your system will also allow you to locate your car via GPS through your Smartphone as well. Now you can stay in constant contact with your vehicle at all times.
Features:
(1) 2-Way FM/FM LCD paging transmitters with easy-to-read icons
(1) 1-Way "Sidekick" non-paging transmitter
Charger included
3000 ft. Operating range
Starter kill output
Audible & visual arm/disarm with intrusion alert
Separate driver's door priority unlock
Dual stage shock sensor with dual adjustments
20 watt high-power single tone siren (120 dB)
On-board parking light relay
Trunk pop
3 Extra Auxiliary channels
Twin 2-Way data ports to accomodate both Fortin and ADS data modules
MobileStart™ port
Can be easily switched from a 2-Way to a 1-Way system through option table
Code-hopping receiver
Gas, Diesel and Hybrid vehicle compatible
Built-in ignition, accessory and starter relays for remote engine start
Manual Transmission Mode with hand-brake or remote activation
Turbo Timer, Idle Down and Infinity Run modes for remote start
Tach Learn and Smart Tachless voltage modes for remote start operation
Adjustable crank times
Adjustable remote start run times (5, 10, 20 or 30 minutes)
Programmable timed self start every 1-4 hours
Full OEM remote integration for security and remote start control
2-Vehicle operation
35 programmable options