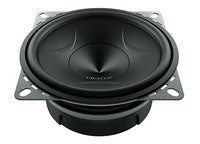 Hertz
Hertz Energy EMV 100.5
EMV 100.5 is a very powerful midrange.
This Energy.5 midwoofer can reproduce a very wide frequency range; from 80 Hz to 7,5 kHz. Thanks to its overall small footprint (44 mm) it can be installed in very small spaces.
The V-cone® technology offers the best off-axis response and high sensitivity to details in mid-high frequencies. The large ferrite neodymium motor assembly ensures excellent mobile voice coil control, for maximum efficiency. A rubber cover protects it from abrasions and damages, providing damping to the basket and motor structure.
Wide frequency range, emission linearity and install-friendliness, without compromise.