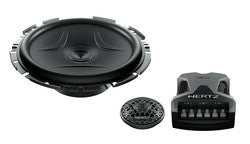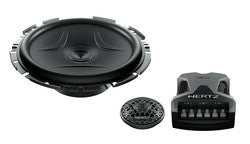 Hertz
Hertz Energy ESK F165.5
The ideal solution for unique, sensational sound quality even in small spaces.
ESK F165.5 is a two-way system, employing the proprietary ET 26.5 tweeter, the EV F165.5 ultra-flat woofer and the specific CX 200.5 crossover; a combination of high-performance, hi-tech products.
Excellent frequency response, high level of installation friendliness even with OEM placements, efficiency and appealing design: the Energy.5 systems comprise and contain the whole sound philosophy of Energy. Pure energy for listening pleasure.