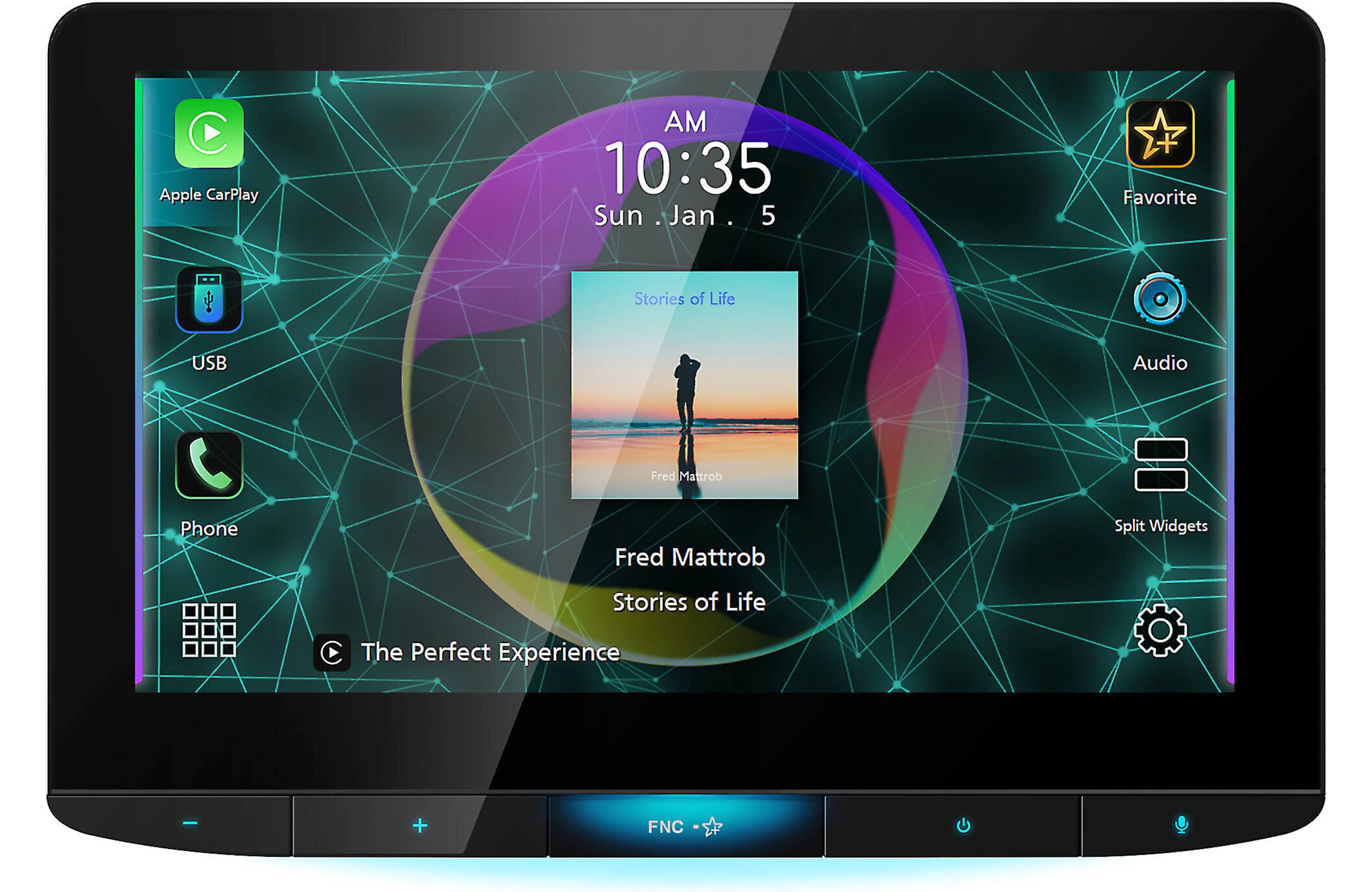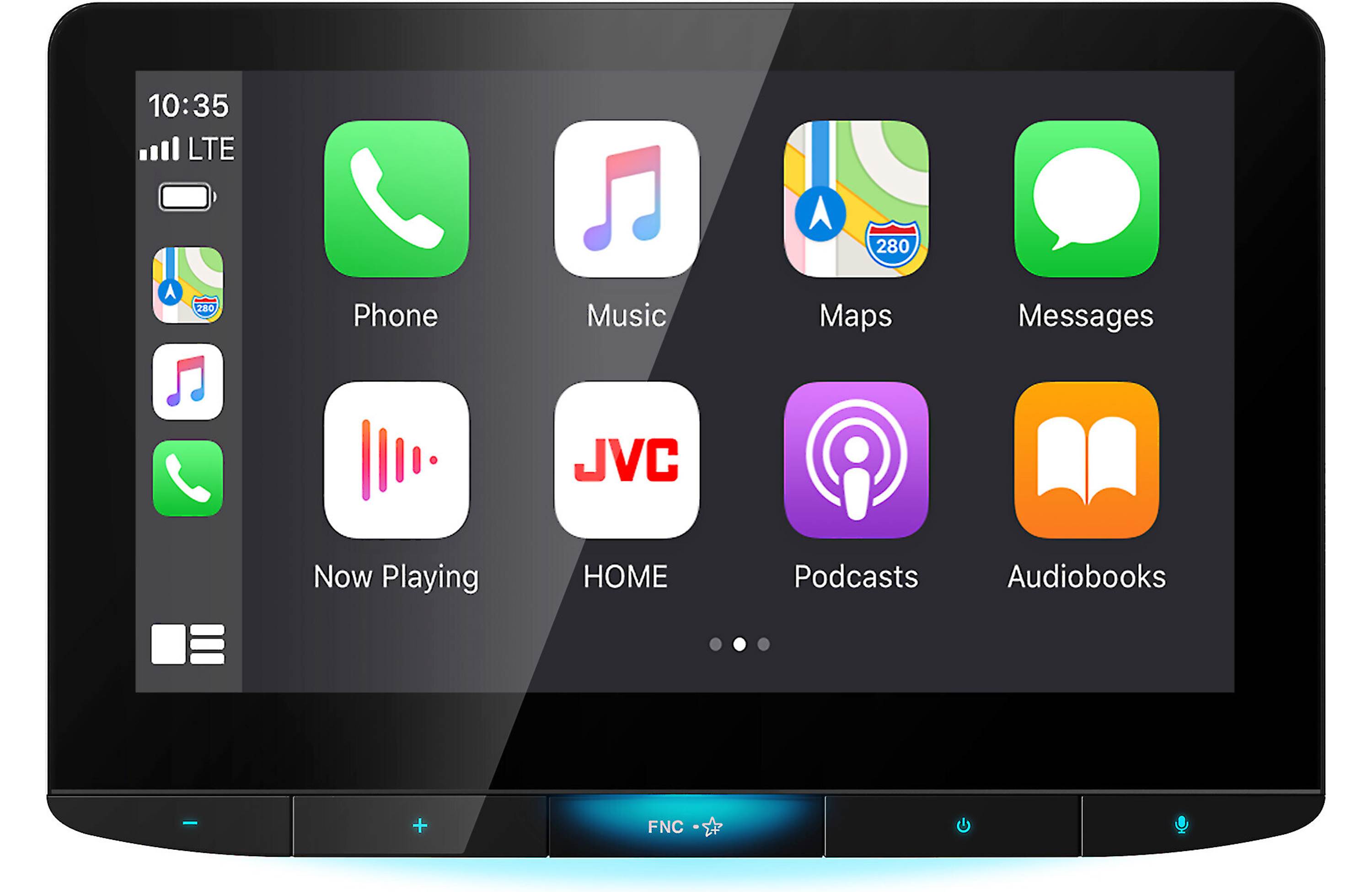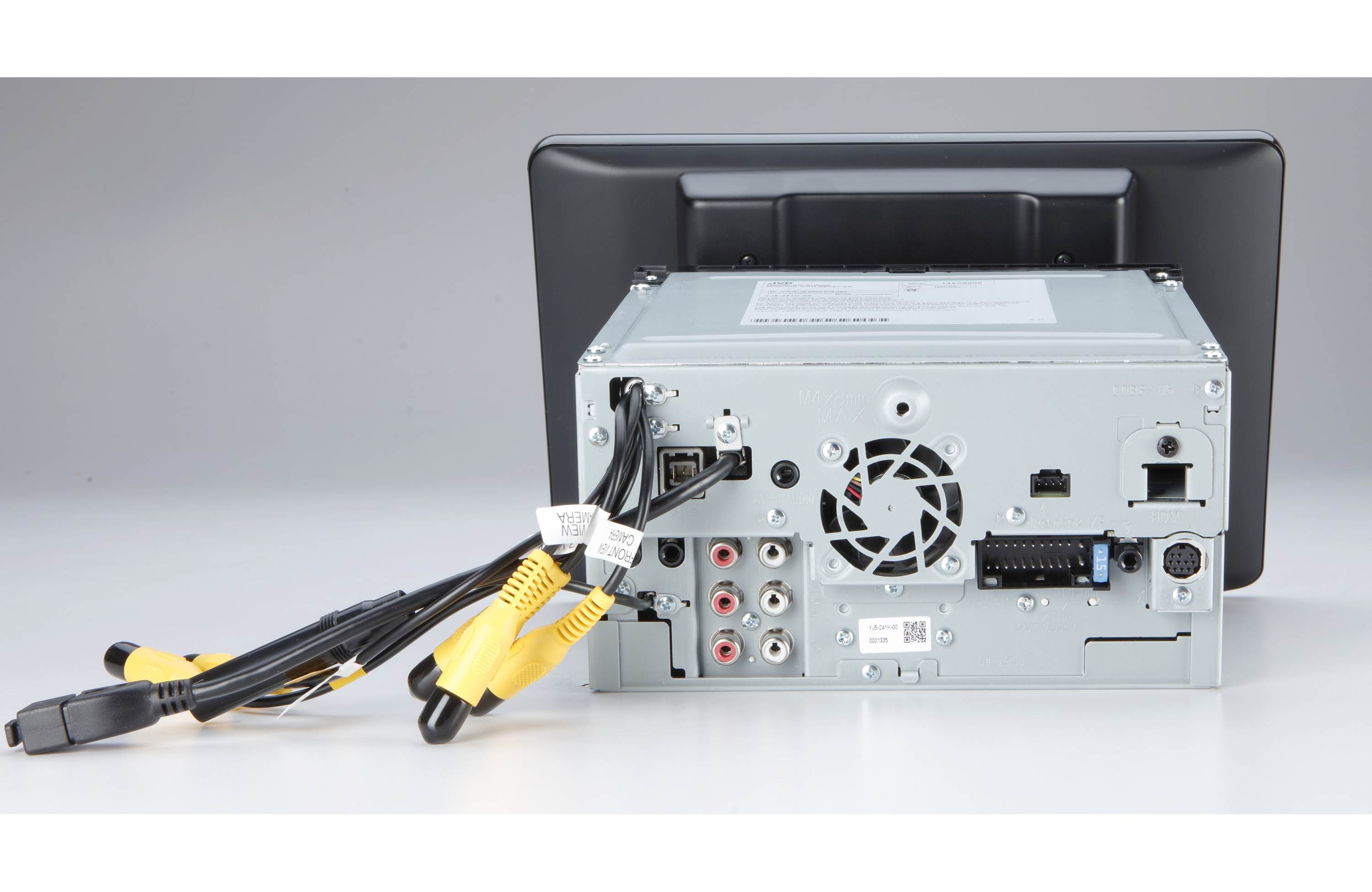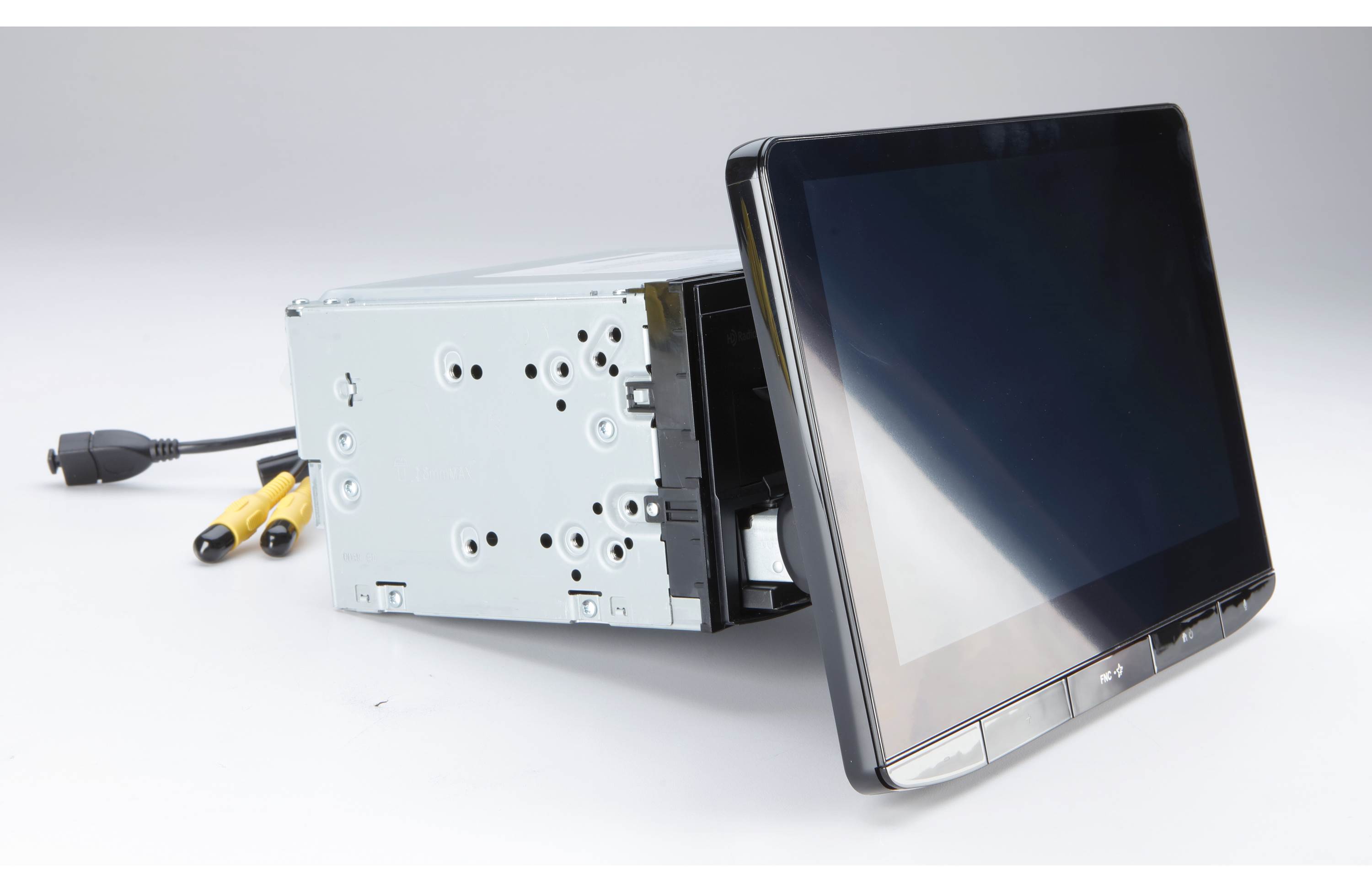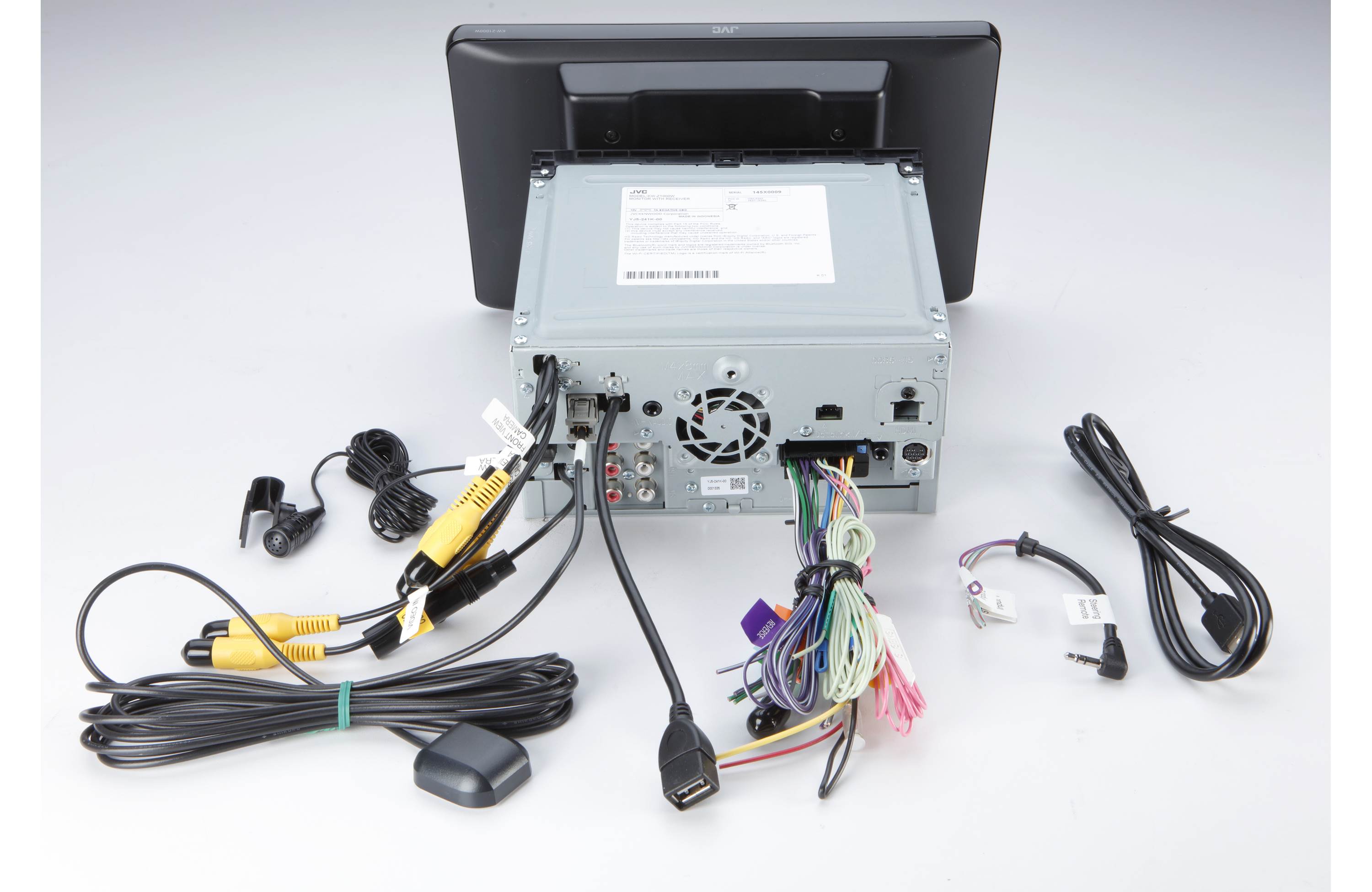 JVC
JVC KW-Z1000W
JVC KW-Z1000W - Digital multimedia receiver (does not play DVD/CD)
Floating infotainment hub
Similar to a heads-up display on a jet, JVC's KW-Z1000W digital media receiver uses its impressive 10" touchscreen display as a big helper on your drive. Its easy-to-read display shows off familiar smartphone interfaces by using wired or wireless Apple CarPlay® and Android Auto™ — incredibly handy for navigation, music, and podcast apps. Even when you're simply using the JVC's display, you can customize it with the look that works best for you. And if you're planning to integrate factory and add aftermarket cameras, you can connect up to four cameras to this receiver. JVC ups the ante with this receiver's built-in, multi-user Bluetooth®, high-res music capability, and lots of tweaks to refine (or even redefine) your entire system's sound.
Versatile mounting
The KW-Z1000W receiver's chassis fits in most double-DIN dash openings, and since there's no disc player, the mounting depth shouldn't be a major issue for most vehicles. Once you've mounted the chassis in your dash opening, you can choose to fix the display's mount from four vertical mounting positions, as well as two depth positions, to free up other vehicle controls and vents in your ride. Once the screen is fixed into place, you can also manually tilt the display forward and back to compensate for angled dashes and glare.
Multi-talented display
This receiver provides options to "mirror" your Android™ or iPhone® display directly on the touchscreen display. And by using this JVC's wireless connection, your smartphone links right up and you're ready to roll with all the voice-control wonderfulness that Android Auto and Apple CarPlay bring to driving.
digital multimedia receiver with AM/FM tuner

 

(does not play CDs)
10.1" floating capacitive touchscreen display

before final installation, depth and height of the display can be adjusted to provide dash vent and control access

Wi-Fi certified
Waze-ready with Apple CarPlay or Android Auto
customizable display background and live wallpaper
manual tilt angle adjustment for better visibility (-10° - +45°)
plays high-res FLAC and WAV (up to 24-bit/192 kHz), as well as DSD files on USB drives
built-in HD Radio tuner
receiver chassis fits double-DIN dash openings
compatible with Apple CarPlay or Android Auto (wireless or wired)
wireless and wired mirroring for Android; wired for iPhone
hands-free calling and audio streaming with dual phone connection
JVC Streaming DJ feature allows music streaming and control from up to five paired smartphones
built-in LDAC for high-res wireless audio streaming with select Android phones
control the stereo using JVC's free Remote app
plays USB memory devices
13-band parametric equalizer with digital time alignment
K2 technology improves the digital sound for all music sources
subwoofer level, phase, and low-pass crossover controls
compatible with SiriusXM satellite radio tuner
inputs: rear USB input, rear A/V input (mini), rear HDMI input, four camera inputs
outputs: rear A/V output (mini), 6-channel preamp outputs (5-volt front, rear, subwoofer)