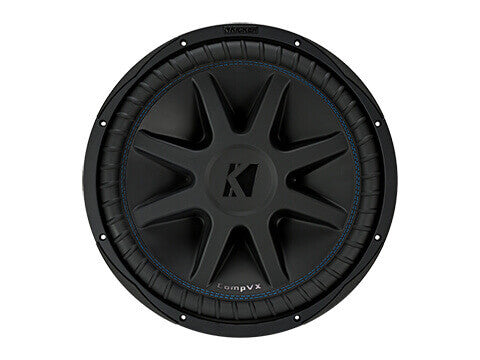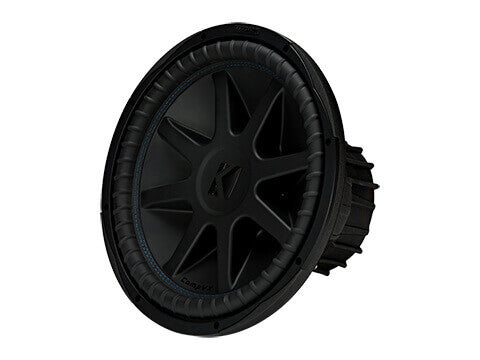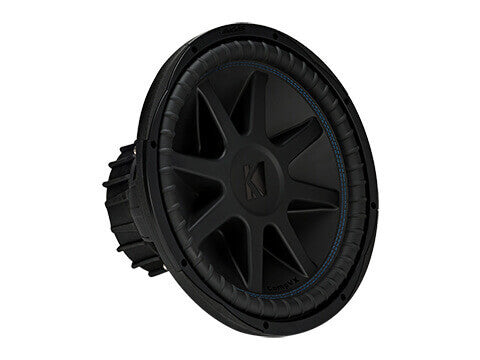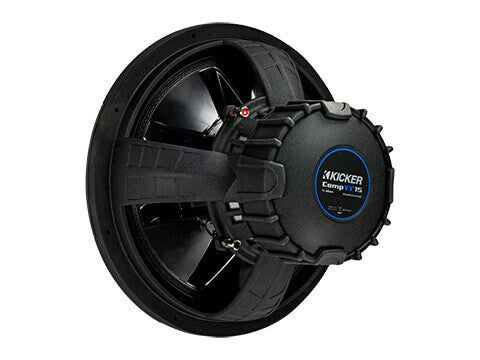 Kicker
Kicker 44CVX152 - 15" CompVX 2 Ohm
Kicker 44CVX152 - 15"  2 Ohm - CompVX 15-Inch (38cm) Subwoofer, DVC, 2-Ohm, 1000W.
The KICKER® CompVX™ features cutting-edge technology for truly musical, distortion-free bass.
15" CompVX 2 Ohm
High-temp dual voice coils deliver the power, while a solid pole piece provides more mass to subdue additional heat. A T-cut top plate creates a wider magnetic field for stronger bass response, and better sound. It all comes together to form a super-reliable motor structure found only in a KICKER subwoofer.
Dual Two-Ohm Voice Coils
Thick Polypropylene Cone
Signature Double Blue Surround Stitching
Ribbed Santoprene® Surround
SoloKon™ Cone Reinforcement
Oversized Suspension System
High-Strength Insulated Tinsel Leads
High Temp Voice Coil
Perimeter Venting for Thermal Management
Massive Ceramic Magnet
UniPlate™ Extended Pole Piece & Backplate For Superior Heat Dissipation
Cast Aluminum Basket
Satin Nickel Spring-Loaded Speaker Terminals
*The CompVX 15-Inch Subwoofer works best with a sealed or ported enclosure and 1000 watts of recommended power. See Recommended Amp RMS Power for more details.
Specifications
Size (IN.,CM)
15, 38
Impedance (OHMS)
2 DVC
Max Rec Amplifier Power (WATTS PEAK/RMS)*
2000/1000
Sensitivity (dB 1w/1m)
91.6
Frequency Response (Hz)
18-500
Mounting Depth (in, cm)
8-1/2, 21.5
Mounting Cutout (in, cm)
13-13/16, 35
Min Sealed Box Vol (cu. ft, L)
1.8, 51.0
Max Sealed Box Vol (cu. ft, L)
5.2, 147.0
Min Vented Box Vol (cu. ft, L)
3.0, 85.0
Max Vented Box Vol (cu. ft, L)
5.0, 142.0
What's in the box?
one 15-inch subwoofer, one owner's manual, two stickers
 *Assumes typical music program with minimal amplifier clipping; varies with enclosure size. See Store for details.
**Port Volume Excluded.