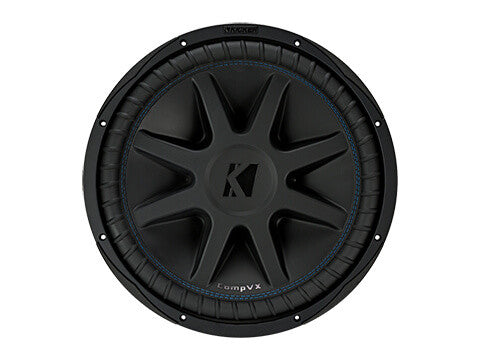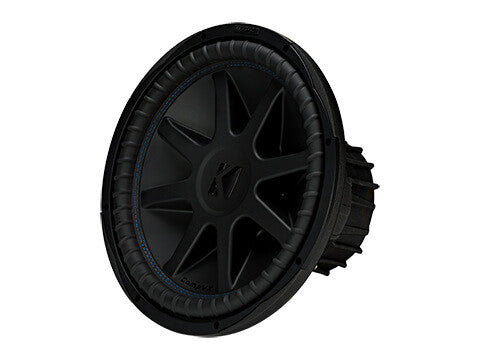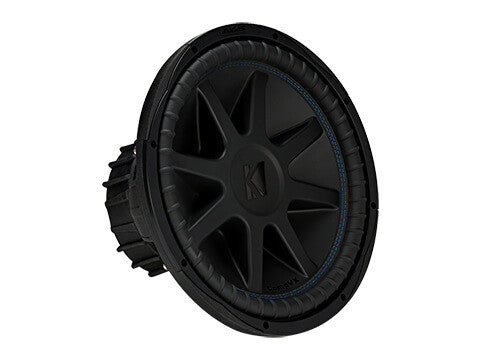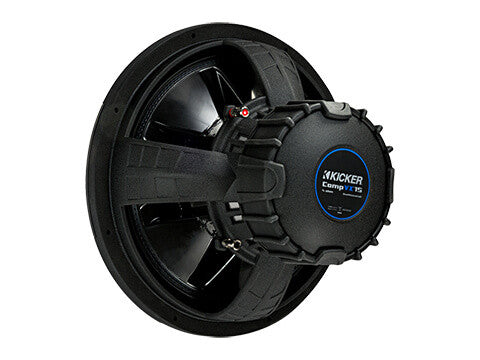 Kicker
Kicker 44CVX154 - 15" CompVX 4 Ohm
Kicker 44CVX154 - 15" CompVX 4 Ohm - CompVX 15-Inch (38cm) Subwoofer, DVC, 4-Ohm, 1000W.
The KICKER® CompVX™ features next-level materials and heat management technology for clear, pounding bass that lasts.
15" CompVX 4 Ohm
The CompVX stands alone among round subwoofers, using technologies found in the Solo-Baric® L7S like the one-piece SoloKon™ cone with vented back bracing for ultra-rigidity and a cool motor.
Dual Four-Ohm Voice Coils
Thick Polypropylene Cone
Signature Double Blue Surround Stitching
Ribbed Santoprene® Surround
SoloKon™ Cone Reinforcement
Oversized Suspension System
High-Strength Insulated Tinsel Leads
High Temp Voice Coil
Perimeter Venting for Thermal Management
Massive Ceramic Magnet
UniPlate™ Extended Pole Piece & Backplate For Superior Heat Dissipation
Cast Aluminum Basket
Satin Nickel Spring-Loaded Speaker Terminals
*The CompVX 15-Inch Subwoofer works best with a sealed or ported enclosure and 1000 watts of recommended power. See Recommended Amp RMS Power for more details.
Size (IN.,CM)
15, 38
Impedance (OHMS)
4 DVC
Max Rec Amplifier Power (WATTS PEAK/RMS)*
2000/1000
Sensitivity (dB 1w/1m)
91.6
Frequency Response (Hz)
18-500
Mounting Depth (in, cm)
8-1/2, 21.5
Mounting Cutout (in, cm)
13-13/16, 35
Min Sealed Box Vol (cu. ft, L)
1.8, 51.0
Max Sealed Box Vol (cu. ft, L)
5.2, 147.0
Min Vented Box Vol (cu. ft, L)
3.0, 85.0
Max Vented Box Vol (cu. ft, L)
5.0, 142.0
What's in the box?
one 15-inch subwoofer, one owner's manual, two stickers
*Assumes typical music program with minimal amplifier clipping; varies with enclosure size. See Store for details.
**Port Volume Excluded.