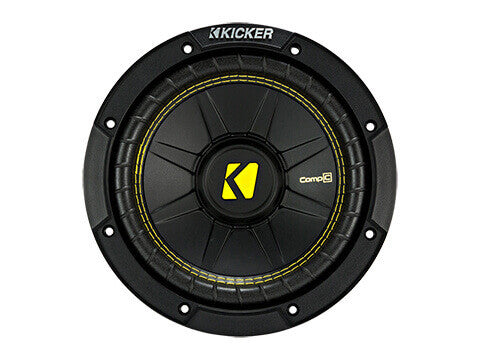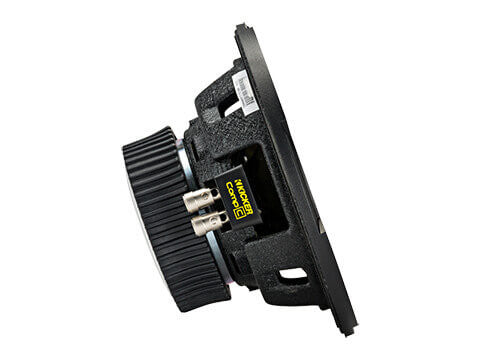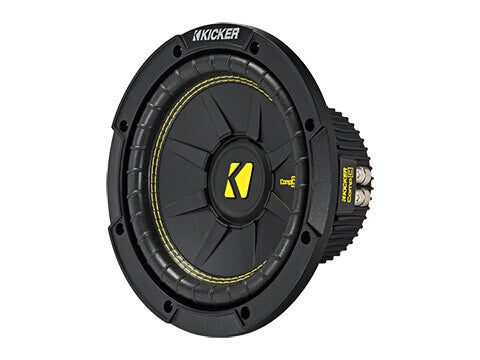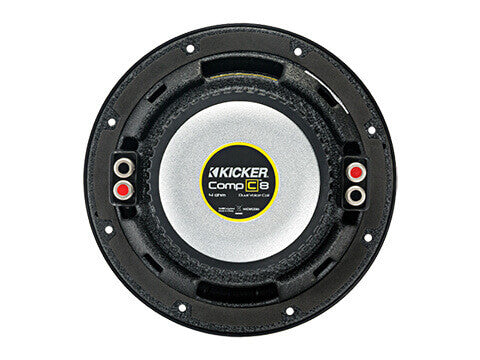 Kicker
Kicker 44CWCD84 - 8" CompC 4 Ohm DVC
Kicker 44CWCD84 - 8" CompC 4 Ohm DVC - CompC 8-Inch (20cm) Subwoofer, DVC, 4-Ohm, 200W.
The perfect combination of performance and value, the KICKER® CompC™ Subwoofer delivers the bump you've been craving!
8" CompC 4 Ohm DVC
The dual-voice-coil CompC Subwoofers make wiring easy with a pair of spring-loaded terminals, for easy optimizing of a CX-Series Amplifier. Big power and big bass are easy to get.
Dual Four-Ohm Voice Coil
Injection-Molded Polypropylene Cone
Perimeter Venting for Thermal Management
Ribbed Polyurethane Surround
Signature Yellow Surround Stitching
High-Strength Spiralead™ Tinsel Leads
Stamped Steel Basket
High Temp Voice Coil
Spring-Loaded Speaker Terminals
*The CompC 8-Inch Subwoofer works best with a sealed or ported enclosure and 200 watts of recommended power. See Recommended Amp RMS Power for more details.
Size (IN.,CM)
8, 20
Impedance (OHMS)
4 DVC
Max Rec Amplifier Power (WATTS PEAK/RMS)*
400/200
Sensitivity (dB 1w/1m)
85.6
Mounting Depth (in, cm)
3-7/8, 9.8
Mounting Diameter (in, cm)
7, 17.7
Min Sealed Box Vol (cu. ft, L)
0.5, 14.2
Max Sealed Box Vol (cu. ft, L)
1.2, 34
Min Vented Box Vol (cu. ft, L)
0.66, 18.7
Max Vented Box Vol (cu. ft, L)
1.2, 34
*Assumes typical music program with minimal amplifier clipping; varies with enclosure size. See Store for details.
**Port Volume Excluded.
Due to continual developement, product, and specifications are subject to change without notice. Stillwater Designs and it's agents are not responsible for typographical errors.