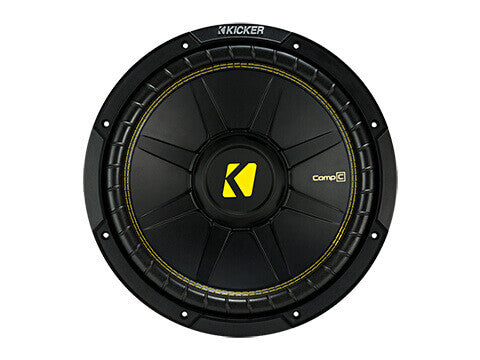 Kicker
Kicker 44CWCS124 - 12" CompC 4 Ohm SVC
Kicker 44CWCS124 - 12" CompC 4 Ohm SVC - CompC 12-Inch (30cm) Subwoofer, SVC, 4-Ohm, 300W.
Huge value. High performance. The KICKER® CompC™ Subwoofer pumps out the bass with all the intensity your ears can handle.
12" CompC 4 Ohm SVC
Perimeter venting keeps the air free-flowing around the motor structure. With a KICKER sub that doesn't overheat, you get high-performance bass that keeps the music pounding.
Four-Ohm Voice Coil
Injection-Molded Polypropylene Cone
Perimeter Venting for Thermal Management
Ribbed Polyurethane Surround
Signature Yellow Surround Stitching
High-Strength Spiralead™ Tinsel Leads
Stamped Steel Basket
High Temp Voice Coil
Spring-Loaded Speaker Terminals
*The CompC 12-Inch Subwoofer works best with a sealed or ported enclosure and 300 watts of recommended power. See Recommended Amp RMS Power for more details.
Size (IN.,CM)
12, 30
Impedance (OHMS)
4 SVC
Max Rec Amplifier Power (WATTS PEAK/RMS)*
600/300
Sensitivity (dB 1w/1m)
88.3
Frequency Response (Hz)
27-500
Mounting Depth (in, cm)
5-3/8, 13.6
Mounting Cutout (in, cm)
11, 27.9
Min Sealed Box Vol (cu. ft, L)
1.25, 35.4
Max Sealed Box Vol (cu. ft, L)
3.5, 99.1
Min Vented Box Vol (cu. ft, L)
1.75, 49.6
Max Vented Box Vol (cu. ft, L)
2.25, 63.7
*Assumes typical music program with minimal amplifier clipping; varies with enclosure size. See Store for details.
**Port Volume Excluded.