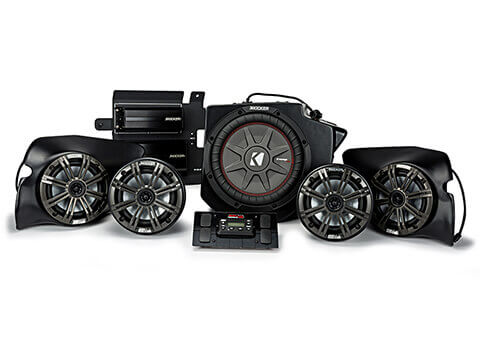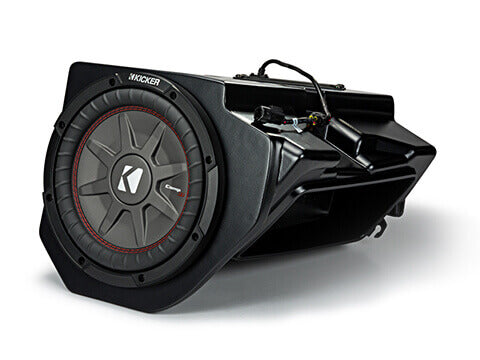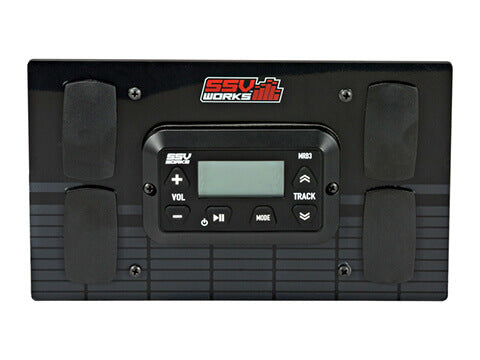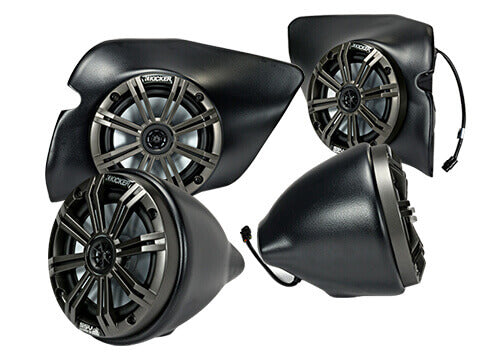 Kicker
Kicker 44PRZ35 - 5 Speaker Polaris® RZR® System (PHASE 5)
Kicker 44PRZ35 - 5 Speaker Polaris® RZR® System (PHASE 5) - KICKER/SSV Works 5 Speaker, Polaris Razor 3
The first truly complete five-speaker audio system for the Polaris RZR.
FULL SYSTEM FUN
KICKER and SSV Works deliver great tunes on the trail. This complete plug-and-play, five-speaker system is custom made for your RZR, right down to the wiring. To get tunes to your system, an SSV Works receiver is included, delivering AM/FM and Bluetooth connectivity to two KICKER PX-Series powersports amplifiers. These weatherproof amps give you 800 watts worth of juice for plenty of volume on the trail.
For mids and highs, a set of KICKER KM-Series weather-proof speakers are mounted in a pair of custom SSV Works kick-panel enclosures. The enclosures are mounted high in the kick panel, allowing plenty of leg room during the ride. Another set of cage-mounted SSV Works speaker pods with KM speakers are mounted above the rear seats for additional volume and sound quality.
SSV Works' unique glove-box sub enclosure is armed with a forceful KICKER 10-inch CompRT subwoofer. Made to be completely hidden yet incredibly loud, the enclosure replaces the factory glove box. You get tons of bass, and keep your storage space!
KICKER PXA500.1 Bass Amplifier
KICKER PXA300.4 Speaker Amplifier
KICKER CompRT 10-Inch Thin Subwoofer
KICKER KM65 Coaxial Speakers (2 pairs)
SSV Works MRB3 AM/FM/Bluetooth Receiver
SSV Works Glove-Box Subwoofer Enclosure
SSV Works Front Kick-Panel Pods
SSV Works Rear Cage-Mount Speaker Pods
SSV Works Amplifier/Receiver Mounting Bracket
SSV Works Radio Antenna
SSV Works Power/Signal Wire
All Mounting/Installation Hardware Included
Compatability
2014-2017 RZR 1000 2 and 4 Seat

 


2016-2017 RZR XP TURBO 2 and 4 Seat
2015-2017 RZR S 900 2 and 4 Seat
Front Speakers (in, mm)
6-1/2, 160
Rear Speakers (in, mm)
6-1/2, 160
Subwoofer (in, mm)
10, 25
Midrange Amplifier Channels
4
Max Amplifier (Watts peak)
300
Frequency Response
10 HZ-20kHZ
Crossover
Hi/Off Selectable @60, 80 or 120 Hz
Crossover Slope
24 dB/Octave
Sub Amplifier (Channels)
1
Max Amplifier Power (Watts peak)
500
Frequency Response
25-120 Hz
Crossover
Low/Off Selectable @ 60, 80, 100 or 120 Hz
Crossover Slope
24 dB/Octave
Receiver Sources
Bluetooth, AUX(3.5mm input), AM/FM, USB(1A Charging)
Equalizer
6 presets
Loudness
Yes
Bass/Treble Controls
Yes
Button Backlighting
Yes
Glove Box/Subwoofer Enclosure
Standard (patent pending)
Kickpanel Enclosures
Standard
Rear Cage Pods
Standard
Amp/Radio Bracket
Standard
AM/FM Antenna
Standard
Wiring Harness
Standard
USB/AUX Accessory Plug
Standard