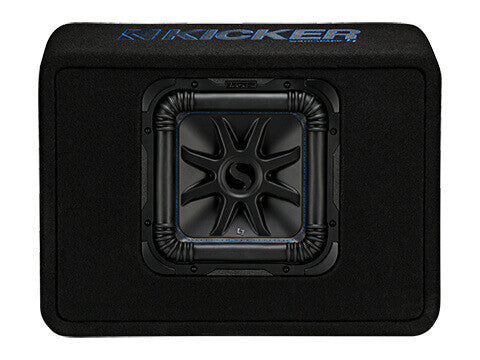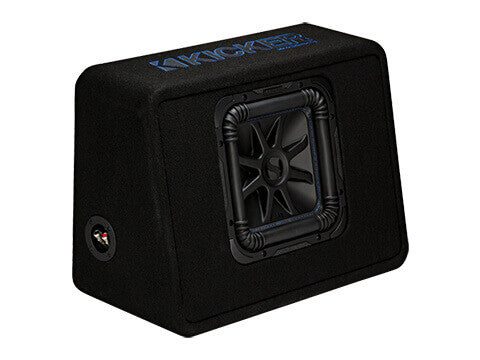 Santa Clarita Auto Sound
Kicker 44TL7S102 - Single 10" Solo-Baric L7S Enclosure
Kicker 44TL7S102 - Single 10" Solo-Baric L7S Enclosure - L7S 10-Inch (25cm) Subwoofer in Thin-Profile Enclosure, 2-Ohm, 600W.
The Solo-Baric® L7S™ 10-Inch Subwoofer Enclosure is perfect for big bass in a small space.
Single 10" Solo-Baric L7S 2 Ohm Enclosure
Whether it's mounted in a truck, sedan or hatchback, the massive power handling and tiny footprint lets you take your music everywhere you go – without the expense of a custom box.
Genuine Solo-Baric® L7S™ Subwoofer Included
Custom Engineered Port Design
Heavy Internal Bracing
Single 2-Ohm Terminal
Easy To Install And Wire
Thick Black Carpeting
Rounded Corners
Embroidered KICKER Logo
Thick MDF Construction
*The Solo-Baric L7S 10-Inch Subwoofer Enclosure works best with 600 watts of recommended power.
Type
thin-profile
Woofer [in, cm]
Solo-Baric L7S 10" 2Ω
Impedance [Ohms]
2
Power Watts [peak/RMS]
1200/600
SENSITIVITY [dB 1w/1m]
89.5
Box Top Depth (in, cm):
6-1/2, 16.4
Box Bottom Depth (in, cm):
10, 25.4
Box Height (in, cm):
15, 38.1
Box Width (in, cm):
21-1/2, 54.6
What's in the box?
one loaded enclosure with one 10-inch subwoofer; mounting hardware (4 - black brackets, 4 - #10 black wood screws x 20mm, 8 - #8 black wood screws 20mm long); one owner's manual; two stickers