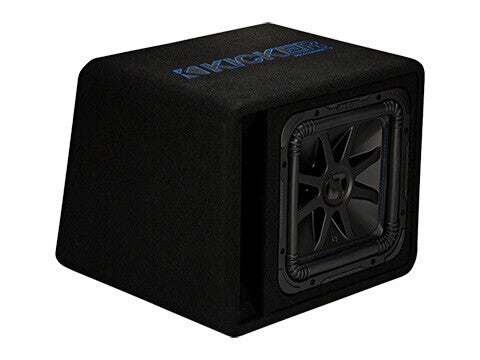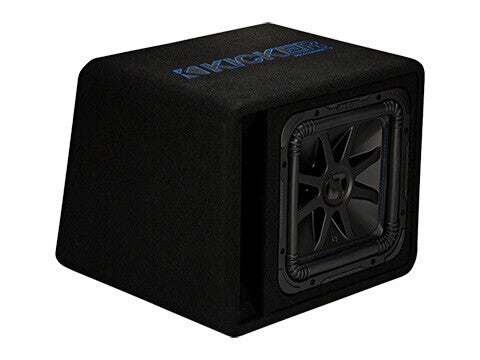 Kicker
Kicker 44VL7S122 - Single 12" Solo-Baric L7S Enclosure
Kicker 44VL7S122 - Single 12" Solo-Baric L7S Enclosure - L7S 12-Inch (30cm) Subwoofer in Vented Enclosure, 2-Ohm, 750W.
The Solo-Baric® L7S™ 12-Inch Subwoofer Enclosure is the easiest, loudest way to get legendary bass in your ride.
Single 12" Solo-Baric L7S 2 Ohm Enclosure
Made from thick, solid wood and brandishing a custom terminal/port combination, this loaded sub box is all bass – and all KICKER!
Genuine Solo-Baric® L7S™ Subwoofer Included
Custom Engineered Port Design
Heavy Internal Bracing
Single 2-Ohm Terminal
Easy To Install And Wire
Thick Black Carpeting
Rounded Corners
Embroidered KICKER Logo
Thick MDF Construction
*The Solo-Baric L7S 12-Inch Subwoofer Enclosure works best with 750 watts of recommended power.
Type
single
Woofer [in, cm]
Solo-Baric L7 12" 2Ω
Impedance [Ohms]
2
Power Watts [peak/RMS]
1500/750
SENSITIVITY [dB 1w/1m]
86.9
Box Top Depth (in, cm):
14-3/4, 37.4
Box Bottom Depth (in, cm):
17-7/8, 45.5
Box Height (in, cm):
16, 40.6
Box Width (in, cm):
18-3/4, 47.6
What's in the box?
one loaded enclosure with one 12-inch subwoofer; mounting hardware (4 - black brackets, 4 - #10 black wood screws x 20mm, 8 - #8 black wood screws 20mm long); one owner's manual; two stickers