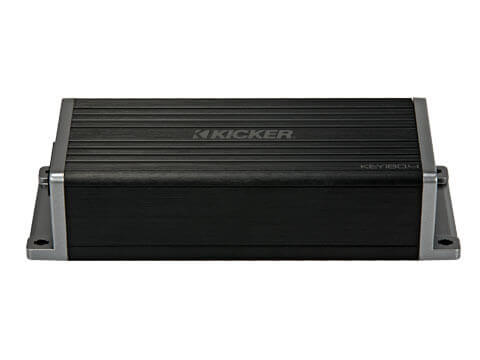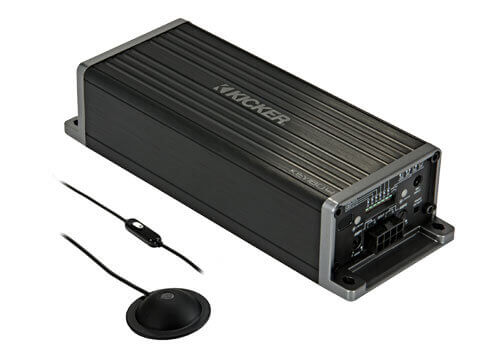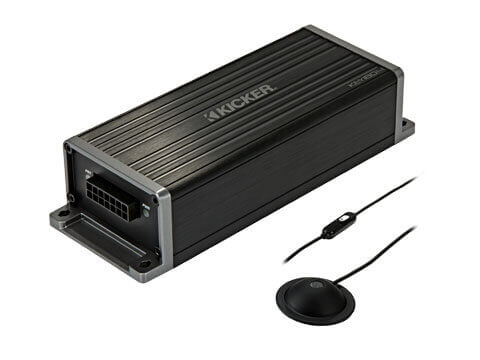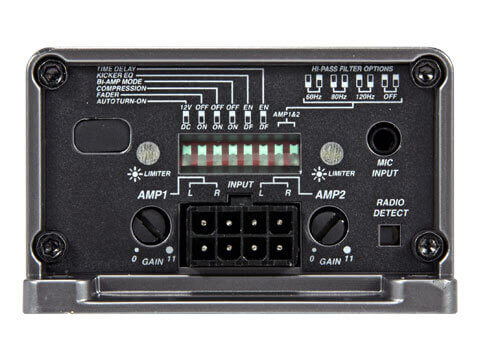 Kicker
Kicker 45KEY1804 - The Key Smart Amplifier
Kicker 45KEY1804 - The Key Smart Amplifier - 4x45-Watt Four-Channel Full-Range Smart Amp with Start/Stop capability
The biggest advance - in the smallest package.
Introducing the KEY smart amplifier and audio processor in one.
ACOUSTIC CORRECTION = AUDIO PERFECTION
Don't just make your system louder - make it clearer. Make it better…
Press the selector, and the microphone goes to work. The KEY uses a powerful internal computer to deliver dramatic improvements in realism and soundstage. A massive 40-band equalizer improves tonality, and a 24dB crossover re-defines the capabilities of each speaker.
The concert quality of your factory stereo is revealed! What would take hours for a professional to achieve happens in a matter of minutes. All automatically. All with the press of a single button.
POWERHOUSE
In addition to an unbelievable sound quality, the KEY180.4 delivers 180 watts of pumpin' power to your factory speakers. At KICKER, we know power and clarity always go hand-in-hand.
HIDDEN TREASURE
Measuring less than eight inches long and only two inches high, the KEY180.4 fits nearly anywhere. Mount it behind your radio, under the seat, or in your trunk with ease.
START. DON'T STOP.
The KEY180.4 is one of the first amps fully compatible with newer vehicles using start-stop systems. The amplifier also features FIT2™ (Fail-Safe Integration Technology), providing compatibility with nearly every stock and aftermarket radio on the road today.
KEEP THE BEAT
If the temperature reaches the threshold, the KEY180.4's dynamic power-management algorithms kick into gear! Instead of hearing the amplifier's volume "pumping" or blowing a fuse – KEY technology engages a nearly inaudible limiter/compressor, applied only to the peaks of the music for as little as milliseconds at a time. The amplifier quickly cools, which deactivates the compressor. Music returns to its full dynamic range without a moment's interruption!
180 Watts Of Power (45x4)
Auto EQ Microphone With Selector Switch Included
Compatible with Start/Stop Vehicle Technology
FIT2™ Technology Included
Turn On Via Remote 12v Signal Or DC Offset
Auto 40-Band Equalizer
Bi-Amp Capability (Defeatable)
Auto Compressor (Defeatable)
Kicker EQ Preset (Defeatable)
Auto Time Alignment (Defeatable)
Auto Gain Adjustment
Auto Speaker Size Detection
24dB Crossovers
60/180/120Hz High Pass Filter (Defeatable)
Power (watts/ch), 4 Ohm stereo
45x 4
Microphone/Kicker EQ button
included
Standard dimensions(H x W x L)
1-11/16 x 2-3/4 x 7-3/8
Metric dimensions(H x W x L)
4.3 x 7 x18.7
Frequency Response (Hz):
20-20k, +0/-1dB
Input Sensitivity:
high level 250mV-10V
Signal-to-Noise Ratio:
>90dB, a-weighted, re: rated power
Active Crossover:
24dB/octave, selective high pass or all pass @ 60,80, or 120Hz
What's in the Box:
1 - 4 channel power amplifier
1 - microphone
1 - microphone cable with switch
1 - fuse holder
1 - manual and installation hardware