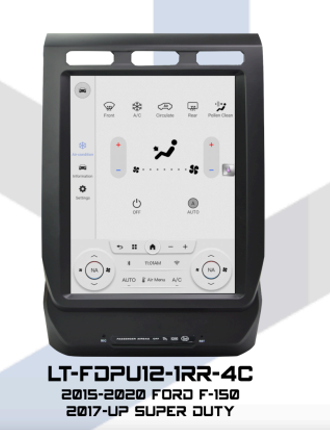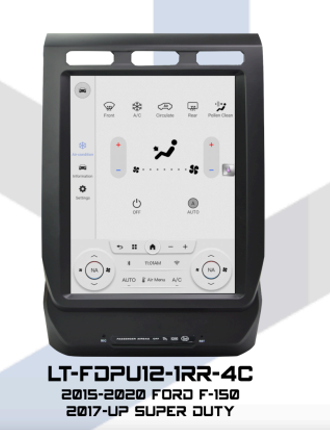 LinksWell
LinksWell LT-FDPU12-1RR-4C
LinksWell 
LT-FDPU12-1RR-4C - 

12.1" GEN IV T-Style Radio/Tablet with HDMI Out for 2015-2020 FORD F-150 2017-UP SUPER DUTY
Get a HUGE 12.1″ Android tablet radio in your dash for FAR less than you would expect, with a Plug and Play installation as well!
The New T-Style "Lite" is a "slimmed down" version of Linkswell's massively popular T-Style radio, giving you the same size screen, HVAC control, backup camera display, USB & Steering Wheel Control support, with complete Plug & Play Install as the standard T-Style, at a massively lower cost!
If you mainly use Car Play or Android Auto, the "Lite" version does both WIRELESSLY, so if you don't require the full Google Play Store experience to load a lot of apps on your radio, the new T-Style Lite will save a ton of money and give you the majority of the benefit of the full upgrade GEN5 T-Style!
PLUG AND PLAY INSTALLATION
Wired AND Wireless Car Play/Android Auto
Android 9 operating system
Bluetooth Hands-Free, A2DP
Supports 2.4 & 5ghz WiFi
Factory-matched Bezel
Compatible with Amplifier T-Harness
12.1″ HD touch screen Android Tablet
Supports Base audio or JBL audio systems
Google Maps preloaded (uses data)
AM/FM Radio (12 FM presets, 6 AM presets)
2 USB inputs (1 factory input, 1 auxiliary)
32 GB Memory 3GB Ram
Bluetooth – A2DP for handsfree calling and music streaming
USB Music and Video player w/1080P Video
4X45 Watt built-in amplifier w/DSP & EQ
4 Volt RCA preamp outputs (4 channel + Sub)
On Screen/touch screen climate controls
Retain factory reverse camera and (optionally) add aftermarket front camera