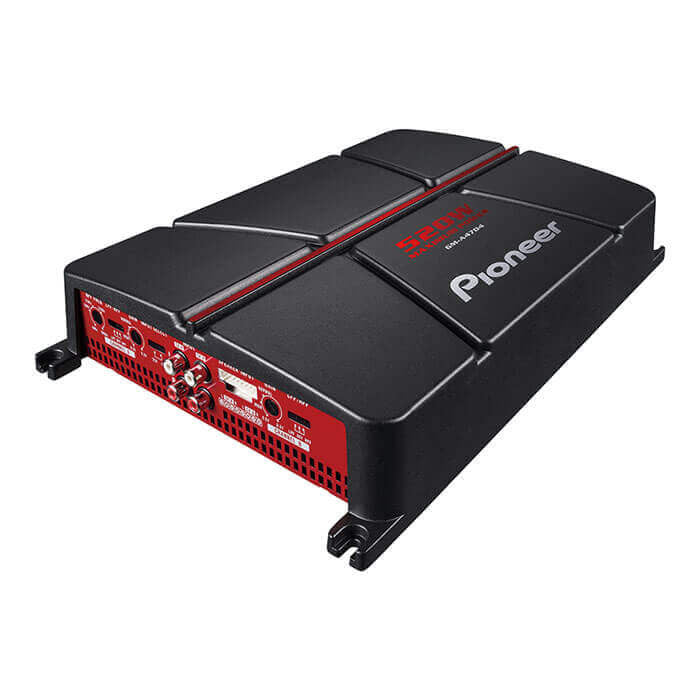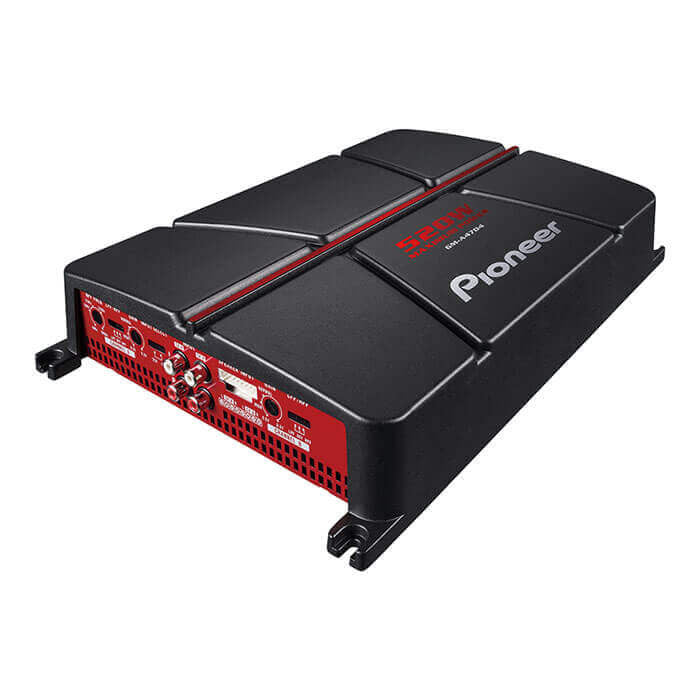 Pioneer
Pioneer GM-A4704
Pioneer GM-A4704
4-Channel Bridgeable Amplifier.
520 Watts Max Power
Automatic signal sensing and Turn-ON
Variable high pass filter
Speaker level inputs
Technology of the GM Series
From dramatic distinction to dramatic design, Pioneer's new GM-Series amplifiers are thrillers in every sense, pushing the limits of flexibility and functionality.
Variable HPF
Variable HPF (high pass filter) allow for adjustable frequency from 40 Hz to 500 Hz* and greater car audio system flexibility according to subwoofer characteristics and personal listening preference.
Growing Power, Shrinking Size
New Pioneer amps brilliantly integrate high-power performance superior to that of previous models in space-efficient sizes for flexibility of installation in various car cabins.
Automatic Signal Sensing and Turn-On
Pioneer amplifiers automatically select the proper input signal mode, either RCA or speaker level. When the receiver is turned on, the amplifier automatically turns on. When connected to an OEM receiver or a receiver without RCA output and utilizing speaker level output, the amp automatically senses the input mode and powers up in sync with the receiver.
When connected to an OEM receiver or a receiver without RCA output using speaker wire, the amplifier is turned on at the same time as the receiver. Pioneer's amplifiers automatically detect the input signal and select RCA level or speaker level.
4
Class AB
520W
130W x 4
80W x 4
520W
65W x 4
40W x 4
130W x 2
10Hz ~ 70kHz (+0dB , -3dB)
<0.05% ( 10W, 1kHz)
> 94dB
30A
4-CH
Speaker Level Inputs
Adjustable HPF/LPF
80 Hz
-12db/oct (A/B CH)
40-500 Hz
12dB/oct
Automatic Signal Sensing and Turn-On
0.3V to 6.5V (RCA in), 3.0V to 26V (SP in)
Screw
2 to 4
Bridgeable
Protection Control System
326(W) X 60(H) X 215(D) mm
1 Year