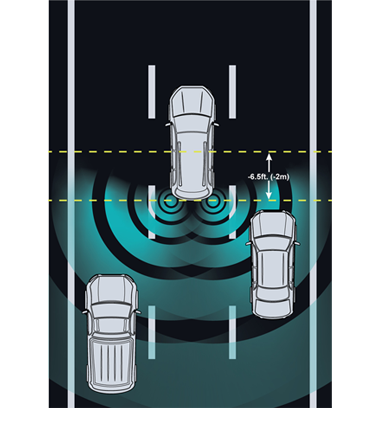 Pioneer
Pioneer SDA-BS900
Pioneer SDA-BS900 - 2-Way Advanced Blind Spot Detection System
Bumper Radar Sensors, Microwave Radar Technology, Speed Sensing - Blind Spot Detection
Bumper Radar Sensors with built-in control
High accuracy digital microwave radar technology
Interior audible and LED indicator alerts
GPS unit for speed sensing
Bumper Radar Sensors are IPX6 and IPX7 rated
LED indicators with pre-installed silver color covers (black covers also included)
3-year limited warranty
The Pioneer Blind Spot Detection System (BSD) SDA-BS900 is designed to assist in detecting vehicles entering your vehicle's blind spot zone*. While driving, the SDA-BS900 will detect vehicles entering your blind spot zone around the rear of your vehicle and in the lanes on the left and right with an approximate range of up to 82 feet. Additionally, objects approaching in either blind spot from the side-rear of your vehicle can detect up to 6.5 ft before and during a lane change maneuver.
The SDA-BS900's microwave radar sensors will detect vehicles approaching or overtaking your vehicle from the rear, or when your vehicle is approaching or overtaking moving vehicles. When you're slowly backing out of a parking spot or driveway, cross traffic approaching from your left or right entering your blind spot zone will activate the buzzer and the LED indicator(s) to signal the direction of approaching vehicles and warn the driver.
* This product functions as an aid for notifying the presence of obstacles in vehicle blind spots. It does not detect all dangers and obstacles and is not a substitute for your judgment and careful attention. Before any maneuver, visually check both sides of the vehicle to confirm.

GPS Antenna Included
The SDA-BS900 comes with a GPS antenna, which is used to calculate your vehicle's relative moving speed. On startup, it may take up to 2 minutes to engage; once engaged, both LED indicators will flash twice to indicate the GPS system is active. The factory default is set to detect and warn at speeds above 18 mph. At speeds under 18 mph, objects will not be detected.
Bumper Radar Sensors with built-in Control Unit Installation
The SDA-BS900 can only be installed behind plastic bumpers and cannot be placed behind metal bumpers. When mounting the sensors, ensure the sensors are not obstructed by any metal objects, which could result in false readings. Placement of the sensors should be in the rear corners of the bumper, perpendicular to the ground, and should be between the lowest line of the taillight and the highest line of the fog light.
IPX6 and IPX7 Rating
The SDA-BD900 bumper radar microwave sensors with built-in Control Units are IPX6 and IPX7 rated.
Bumper Radar Sensor

3 Year Limited

Radar Sensor: IPX6/IPX7
Right and Left Rear Bumper Corners

1 set

1 Set

1 Piece

1 Set

2 Sets (2 Black and 2 Silver)