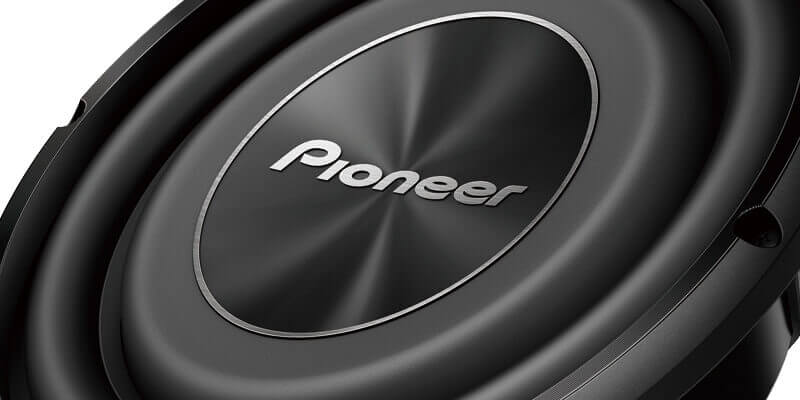 Pioneer
Pioneer TS-A2500LS4
Pioneer TS-A2500LS4 - 
10" Shallow-Mount Subwoofer with 1,200 Watts Max. Power
1200 Watts Max Power (300 Watts Nominal)
Unique Design with just 3-3/8" Mounting Depth
Small Enclosure Use (0.35 ~ 0.7 cu. ft.)
4 ohms Single Voice Coil
Glass Fiber and Mica Reinforced IMPP Cone
Double reinforced Spider
8-AWG Push Terminals
Rubber Surround
Easily Upgrade to High Performance
Pioneer's A-series sound design purposely matches the subwoofer and full-range loudspeakers to provide seamless and smooth sound characteristics with dynamic, high impact bass that lets you hear and feel the music.
Reinforced Cone Structure
The cone structure of this subwoofer uses a highly rigid cone made with MICA injected molded resin which creates a rigid and durable cone, giving it the ability to produce accurate bass.
Shallow Compact Design
Our line of shallow subwoofers are designed to provide wider installation options for a broad range of vehicles. These shallow-mount subwoofers feature multiple patent-pending features to deliver the big bass performance of a full-size subwoofer, but in a compact design that can be installed either behind or under seats depending on the type of vehicle. The mounting depth is just 3-3/8" - less than half a typical subwoofer in this class.
Size
10"
Max. Music Power (Nominal)
1,200 W (300 W)
Frequency Response
20 Hz to 900 Hz
Sensitivity (INPUT: 1W)
85 dB
Impedance
4 Ohms
Mounting Depth
3-3/8"
Cut-Out Dimensions
9" Dia.