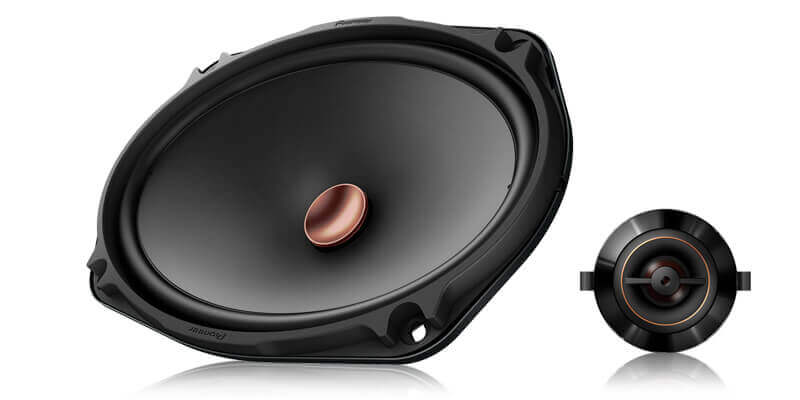 Pioneer
Pioneer TS-D69C
Pioneer TS-D69C
NEW!
 6" x 9" 2-Way Component System
26mm Polyester Soft Dome Tweeter with Swivel Capability
Aramid Fiber Interlaced Injection Molded Polypropylene (IMPP) Cone Construction
Unique Tri-position, Swivel Tweeter Mounting Kit Expands Installation Flexibility
D FULL RANGE, MUSIC FOR ALL

The D is a result of Pioneer's automotive loudspeaker engineering experience and expertise, combining advanced design techniques with highly developed manufacturing capabilities.

Following Pioneer's OPEN & SMOOTH sound concept, the D series of automotive loud speakers provides broad and balanced frequency response with a wide sound stage and amazing fidelity for the listener.
2-way Component
86dB (+- 1.5dB)
33 Hz to 49 kHz
110 Watts
330 Watts
4 ohms
6" x 9"
Aramid Fiber Interlaced Injection Molded Polypropylene (IMPP)
Polyethylene Terephthalate (PET)
Butyl Rubber
Ferrite
15.2 oz
Soft Dome
26mm
Polyester
Neodymium
6.4 g
Yes