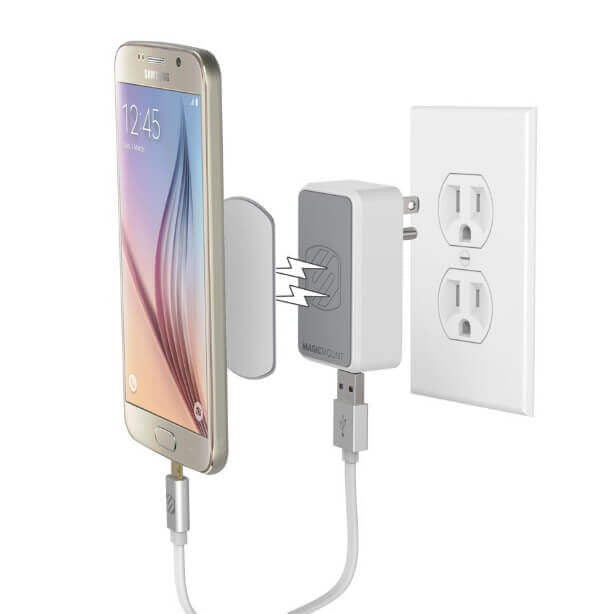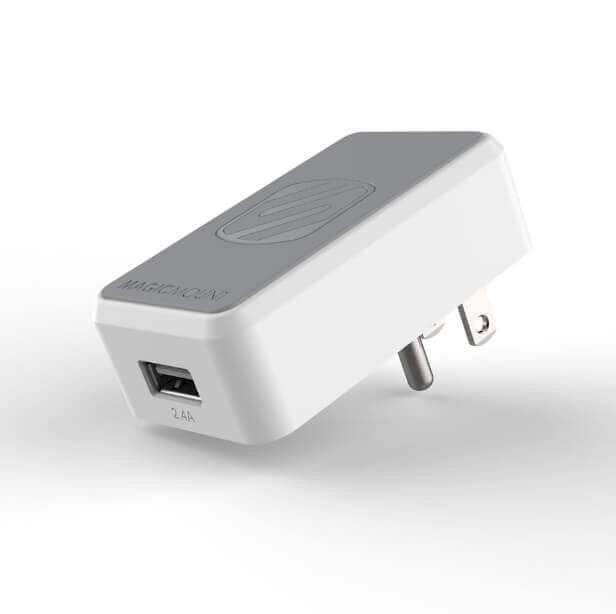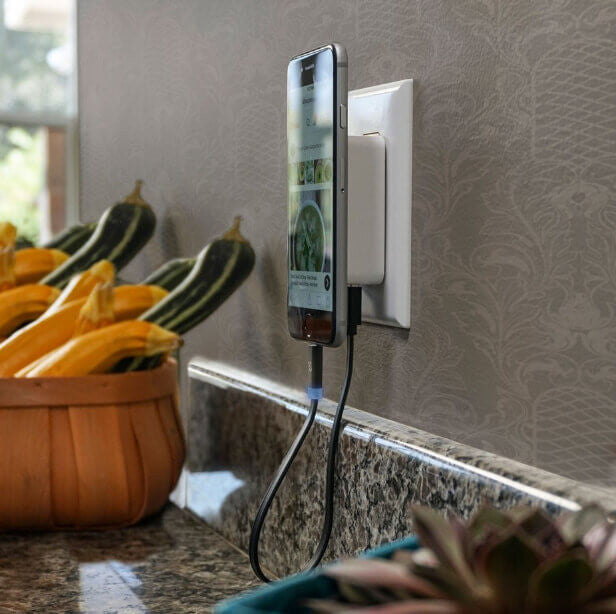 Scosche
Scosche MH121 MagicMount™ Wall Charger
Scosche MH121 MagicMount™ Wall Charger.
Wall Charger with Magnetic Mount.
100% Safe, Powerful Rare Earth Magnets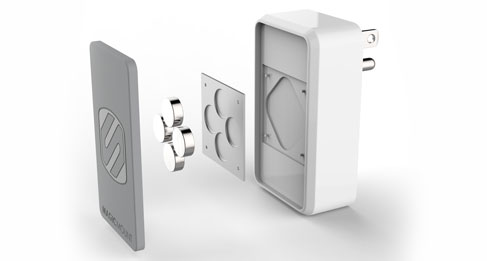 These powerful earth magnets hold your device securely in place and are 100% safe for Smartphones, Tablets, GPS and many other devices* . 
*Does not work with iPod Classic or other hard drive devices. The strong magnetic fields produced by these Neodymium magnets is enough to damage hard drive devices.
Mounting Your Mobile Devices Is Easy
Once the MagicPlate™ is applied as shown further down this page, just hover your device near the magnetic surface and it instantly locks securely in place. The sleek cradle-free design works perfectly with larger devices and allows you to position your screen for optimal viewing.
Powerful Wall Charger
The 12 Watt USB port gives you the fastest charging speed possible. The latest iPads have been designed to charge at 12 Watts, making this wall charger the ideal charger. Optimized charging circuitry will not cause any harm to less powerful devices - iPhones and iPods will also charge at the fastest speeds possible.
MagicPlate™ Placement Options
The MagicMount™ system uses powerful magnets to grip safely and securely to the MagicPlate™, which is a small adhesive metal plate that can be attached very easily to the back of your mobile device. You can choose to apply the adhesive plate directly to your device, under the battery cover or to the outside of the case. MagicMount™ now comes with an additional item in the package, protective film. The protective film can be used when you plan to directly attach a MagicPlate™ to the back of your smartphone or tablet. The film is designed to assist in plate removal should you decide to do that at some point in the future. Simply follow the installation instructions that come with your MagicMount product. Usage of the film is not required, but it is recommended for direct to phone/tablet MagicPlate applications.
*MagicMount is not recommended for use with a mobile device encased in a wallet-style case cover.
100% safe for virtually all mobile devices
Charge Output: 12W - 2.4A 
Includes two MagicPlates
This item is compatible with
iPhone 7 Plus
iPhone 7
iPhone SE
iPhone 6S Plus
iPhone 6S
iPhone 6 Plus
iPhone 6
iPhone 5C
iPhone 5S
iPhone 5
Samsung Galaxy S8 / S8 Plus
Samsung Galaxy S7 / S7 Edge
Samsung Galaxy S6 / S6 Edge
Samsung Galaxy S5
Samsung Galaxy S4
Google Pixel
HTC 10
Motorola Moto Z
iPad Pro
iPad Air (All)
iPad (4th gen)
iPad mini (All)
iPad (3rd gen)
iPad (2nd gen)
iPod touch (5th gen)
iPod touch (4th gen)
iPod touch (2nd/3rd gen)
iPod touch (1st gen)
iPod nano
iPod shuffle
iPod classic