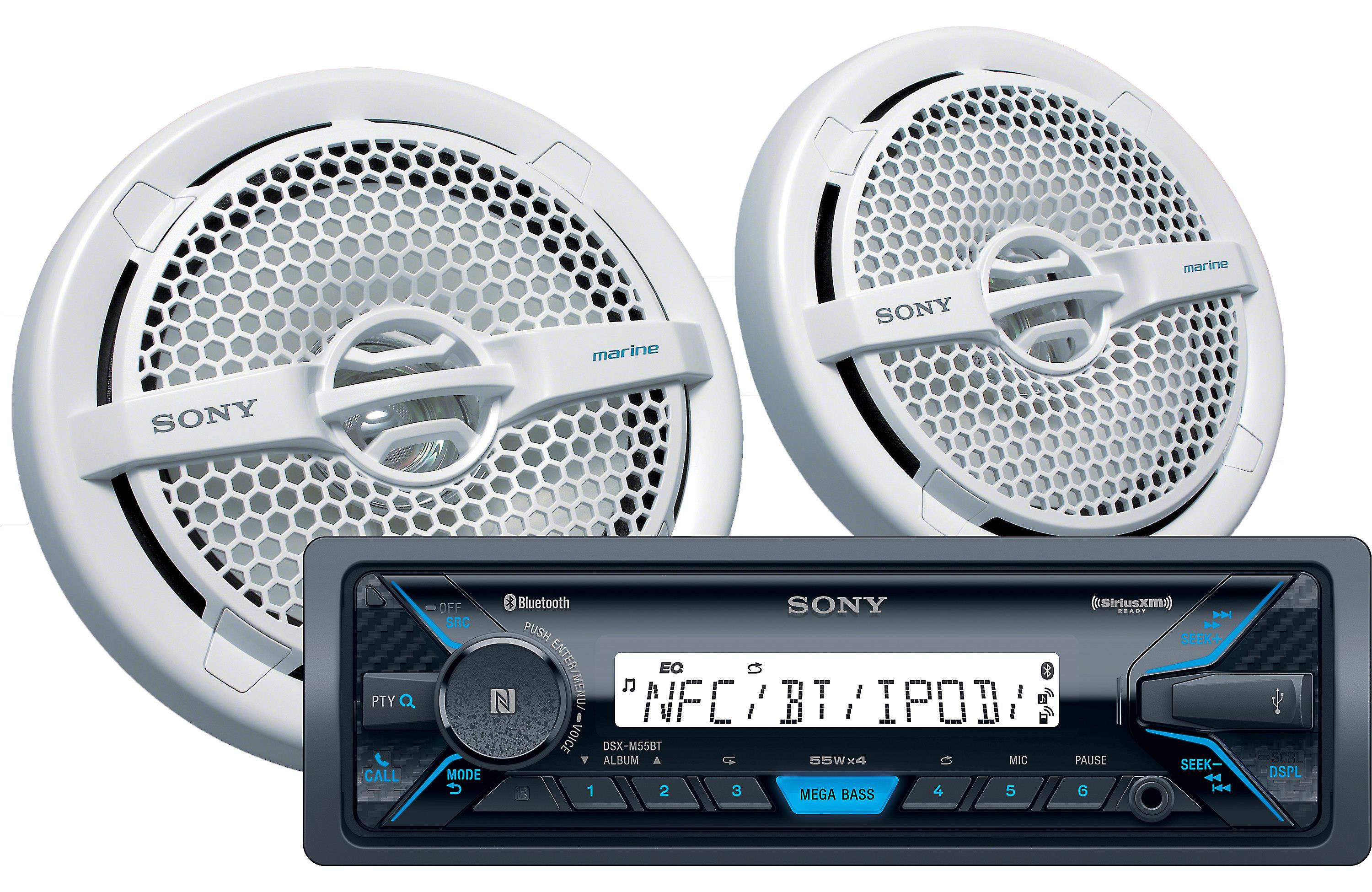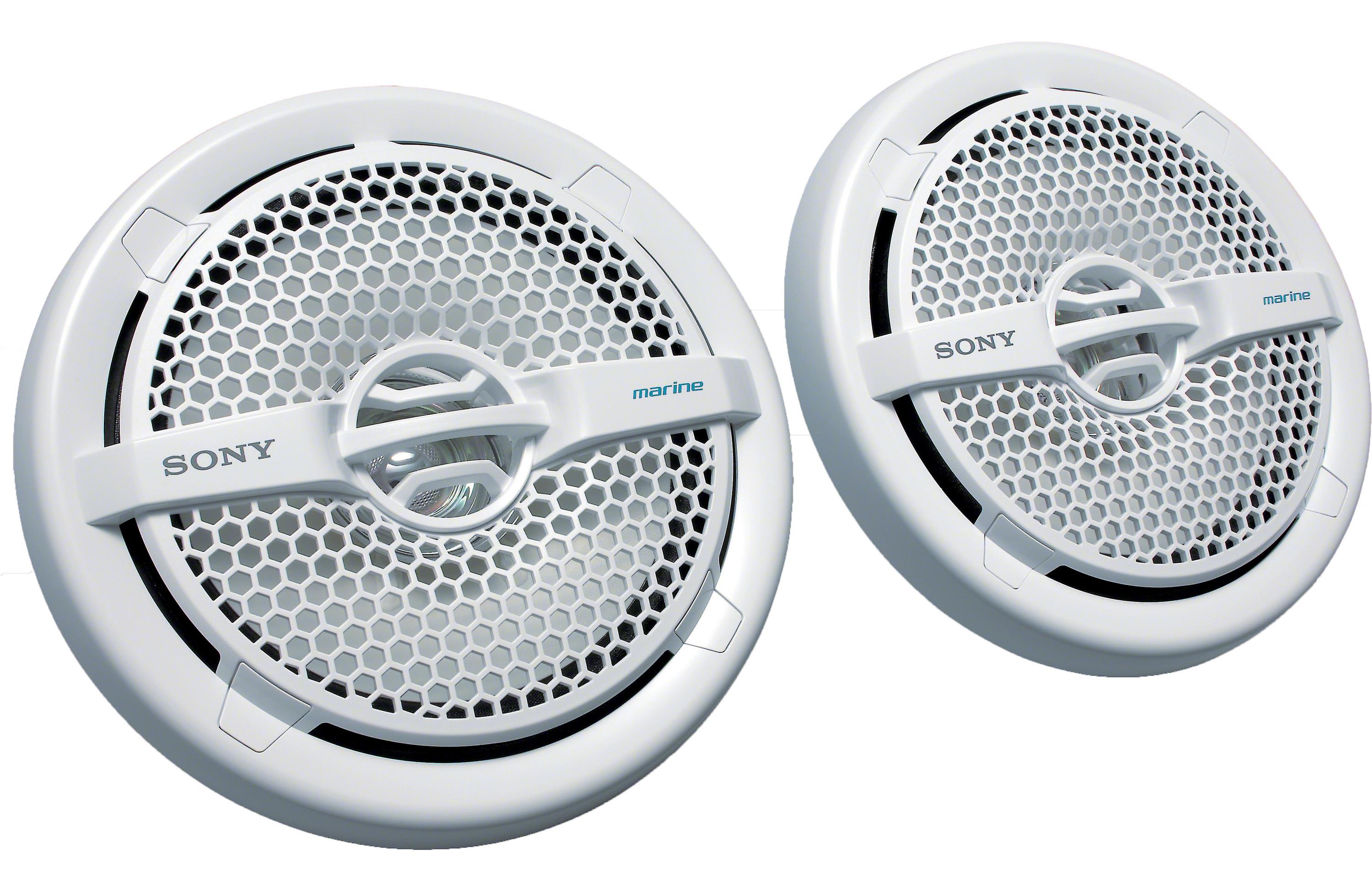 Sony
Sony DXS-M5511BT
Sony DXS-M5511BT - Marine audio package
Includes DSX-M55BT digital media receiver (does not play CDs) and two 6-1/2" speakers
A seaworthy Sony set
The Sony marine package includes the DSX-M55BT digital media receiver and a set of 6-1/2" marine speakers, allowing you to enjoy all your favorite music while you're out on your boat. The receiver's built-in Bluetooth® and handy front USB input give you plenty of ways to play your tunes, and the rugged, marine-ready speakers will give you tremendous sound for seasons to come.
Bluetooth® convenience and more
Built-in Bluetooth offers Simple Secure Pairing, so you'll be streaming music and taking calls on the built-in microphone in no time. You can also plug your iPod®, iPhone®, Android™ smartphone, or other device into the front USB port and play your favorite MP3 or WMA files while charging the device. You can also enjoy your favorite Pandora playlists from your phone.
You can also add a SiriusXM satellite radio tuner (sold separately, subscription required). Satellite radio offers an unparalleled variety of music, news, sports, and talk, and your favorite channels will stay with you, even when you're miles offshore. No wonder it's a feature more and more boaters are looking for.
Get the sound you like
The DSX-M55BT features a built-in amp that's designed to produce plenty of power without noise or distortion. You can also customize the sound to suit your musical tastes using the built-in 3-band equalizer. If you like bass-heavy music, Sony's Mega Bass really brings the beat. And the front and rear preamp outputs will come in handy when you expand your system.
The display shows song title and artist info, then gives you caller ID when you get a call. The intuitive front panel is easy to learn, but you can use the included remote or a Sony wired remote control (sold separately) when you're away from the receiver.
DSX-M55BT digital media receiver:
marine digital media receiver with AM/FM tuner (doesn't play CDs)
built-in amplifier (17 watts RMS CEA-2006/55 peak x 4 channels)
integrated Bluetooth with Simple Secure Pairing
plays MP3 and WMA files
partially detachable face with low glare LCD display
conformal-coated circuit boards resist moisture
USB port compatible with iPod®, iPhone®, Android™ smartphone
wireless remote control
compatible with SiriusXM satellite radio tuner
compatible with wired external remotes (input on rear)
inputs: front USB input, front AUX input
outputs: 4-channel preamp outputs (2-volt front and rear)
chassis width: 7.715"
chassis height: 2.085"
nose width: 7.385"
nose height: 2.285"
warranty: 1 year
6-1/2" marine speakers:
dual cone design
handles up to 65 watts RMS
water-resistant IPx5 certified design
UV and salt water resistant
removable grille